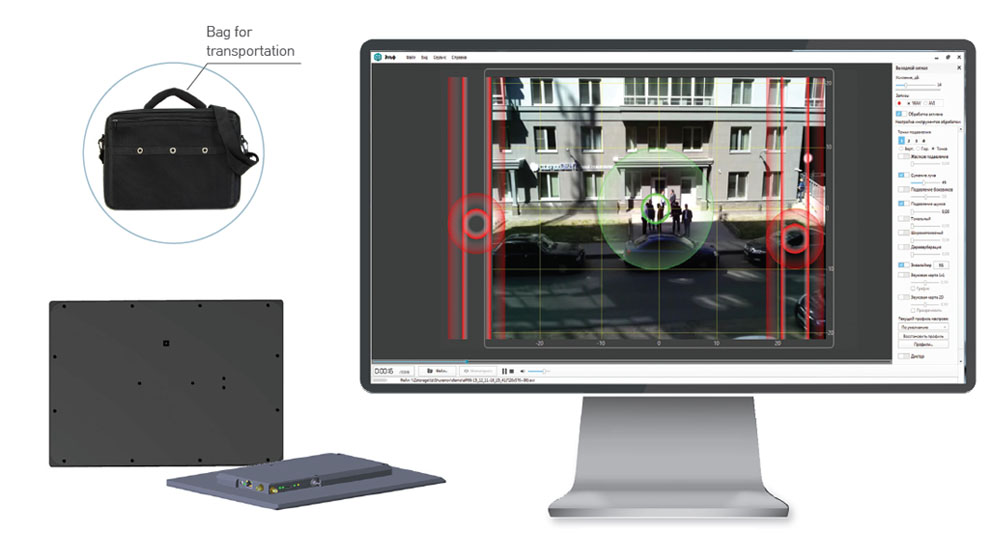 AUDIO ZOOMING
Multiple microphones configured in an array coupled with audio processing algorithms significantly increase speech intelligibility coming from a target direction. The sounds outside the target direction are suppressed. Microphone array spatial resolution is ideal for audio surveillance and recording in noisy condition when conventional recording devices cannot be placed in an immediate proximity with the sound source.
LIVE MODE
When plugged to a PC microphone array can be fully controlled in a live mode. With ELPH software operator can steer audio beam remotely with visual control of a scene coming from built-in video camera. Audio processing results are immediately audible.
BUILT-IN VIDEO CAMERA
Built-in video camera records and/or transmits video from microphone array for pinpointing target audio direction and suppressing unwanted directions in the on-screen view.
MOBILE APP
The possibility of using mobile app for product positioning and real-time monitoring
POST-PROCESSING
In a recording mode ELPH records sound from all microphones plus video stream. Recording is done with a special processing unit and files are stored in microSD memory in .avi format. These multi-channel files can be processed and played back afterwards in ELPH software with all range of beamforming and audio processing tools. Enhanced files can be saved in .wav
or .avi format.
SOUND INTENSITY MAP
Sound intensity map yields a colorful picture of all sounds picked up by microphone array even if they are out of the camera view. This function allows for more precise beam positioning..
Opto Acoustical Laser Microphone
Long Distance Audio Monitoring Device
Opto Acoustical Laser Microphone
Long Distance Audio Monitoring Device
Video/Audio Transmission
Remote Controller
High Speed COFDM TCP/IP transmission system
MILAN QUATTRO VIDEO RECEIVER
COFDM store and forward system for video and audio
MILAN QUATTRO TX 1000 / 2000
Video / Audio / IP-Input 64 GB onboard flash
MILAN QUATTRO RX STANDARD TFT
MILAN QUATTRO FFS 2000
Remote Controller for OAM2000
PT for OAM2000
The OAM-2000 Optical Acoustic Monitor is a sensing system for monitoring the speech of a subject inside cars or buildings for example, by detecting surface vibrations. The aim of this development is to detect acoustic signals over
distances of up to 150 m, widely independent of the target's optical properties. The laser spot is invisible to the human eye and to commercial CCD cameras allowing for targeting through windows in a closed room. The physical principle only allows detection of vibrations where the laser beam is focused, suppressing ambient noise outside the target area.